Case Study: Flatiron School
Project Overview
In October 2021, I was hired by Flatiron School as Senior Curriculum Writer for the Product Design department.
Part of my role included maintaining the current curriculum. This included communicating with students and instructors to identify modest fixes and improvements needed within existing readings, lectures, labs, and assessments.
However, an urgent problem soon caught my attention:
The job placement rate of Product Design graduates lagged far behind other disciplines.
A look at placement rates 6 months after graduation in Flatiron School's 2022 Jobs Report painted a discouraging picture for Product Design grads:
Data Science: 85%
Software Engineering: 76%
Cybersecurity: 71%
Product Design: 50%

No matter the external factors impacting this success rate–the COVID-19 pandemic, the layoffs that struck the tech industry starting in late 2022–this number is unacceptably low.
After all, what do students want from an expensive bootcamp other than using their new abilities to land a job?
Identify the causes
In an effort to better understand the problem, my team contacted industry hiring managers who had recently interviewed Flatiron Product Design grads to reflect on candidate performance.
In addition, I interviewed all of the following to gain their perspective:
Curriculum writers from other departments. How do their graduation requirements compare to ours? How does each discipline define "job ready"?
Career Services. How do our graduate portfolios match employer needs? Do our job seekers have the soft skills needed for a successful search?
Recent graduates. What sort of daily design practice do our students maintain after graduation? What expectations do grads bring to the job search?
After synthesizing the results, my team identified 3 areas for improvement.
Create professional development content. Our program didn't meaningfully teach soft skills. Graduates learned about LinkedIn and networking from Career Services, but this knowledge wasn't specific to the design industry.
Emphasize presentation skills. To make our graduates more comfortable presenting case studies to hiring managers, we needed to place greater emphasis on storytelling. Students should practice presenting earlier in the program, and more often.

Require student portfolios. During the 5th and final phase of our program, students were required to build a capstone project, but not a portfolio. They were introduced to sample portfolios, tools, and best practices, and encouraged to complete their portfolio after graduation.

Unfortunately, the majority of grads either never completed their portfolio, or spent so long designing one that it severely delayed their job search.
Create professional development content
In order to inspire students to think about how to position themselves within the design industry well before they start building their portfolio, we added one day of professional development lessons to each of the first 4 program phases.

While the new professional development learnings were a collaborative effort, I was primarily responsible for creating readings guiding students on soft skills, including the following topics:
Overcoming impostor syndrome
Crafting an elevator pitch
Building a resume
Completing a LinkedIn profile
Networking using LinkedIn
Requesting informational interviews

My teammate Siana Altiise created Labs and discussion prompts to align with visits by Career Services to the classroom, and to ensure students were researching other designers, building their resume and LinkedIn profile, and participating in networking activities.
Reflection
While the new lessons and labs pleased our Career Services team, graduate networking didn't increasing as fast as we'd hoped. Some graduates built robust LinkedIn profiles and began building meaningful connections, but many have not, making our professional development efforts feel like a work in progress rather than a completed project.
Emphasize presentation skills
While our curriculum already contained lectures on creating and delivering presentations, our instructors felt the existing lectures on Presenting UX Decisions and Presenting UI Decisions had been created in haste and failed to inspire quality work from our students.
Improving these 2 lectures was a 3-step process.
Meet with instructors to assess current lectures
First, I met with instructors to identify strengths and weaknesses regarding student presentations, and to prioritize lessons to be taught and improvements to be made.

Primary recommendations from instructors on the Presenting UX Decisions lecture included
Shape presentation appropriately for the audience
Focus less on what you did, and more on what you learned
Don't include every design deliverable, only the ones that contribute to the story you're telling
Provide a meaningful conclusion that frames the type of feedback desired
For the Presenting UI Decisions lecture, instructor recommendations included
Reference and implement existing UI patterns
Present UI decisions as an objective solution, not a subjective choice
Crop visual assets to draw meaningful attention to work completed
Show evidence of verifying design choices through usability testing
The success of this meeting sparked greater collaboration between the curriculum and delivery teams. I ended up running a similar meeting every 3rd Friday, seeking instructor input on a proposed change or existing pain point.
Research best lecture design practices
My next step was to research current best practices in presentation design.
Resources such as Three principles to better present your UI designs by Tess Gadd provided valuable lessons on focusing presentations on fulfilling user needs and business goals, rather than describing visual decisions as based on arbitrary likes and dislikes.

When gathering research, I strive to keep my research documents in Notion organized so team members can instantly understand them and make use of their insights.
Design new lecture slides
The stakes were unusually high for these 2 lectures. The finished result needed to both meet objectives identified by the instructors and model a positive example for students.

When preparing the slides, I kept the words per slide to a minimum, while using speaker notes to encourage instructors to provide additional detail.

The lectures were also available in Canvas in the form of video lectures I'd recorded, in which I made sure to sound well-rehearsed, confident, and upbeat.
When designing slides, I chose visuals relevant to the text on the slide, and presented the imagery as large as possible.

Reflection
The instructors loved the new lectures and described the improvements as exactly what they'd been seeking. But to better measure the impact of my team's work, I made sure to attend student presentations at the end of each program phase as often as possible.
Storytelling and slide design did improve noticeably after the launch of the new lectures. However, students continued to fall short on one item from the instructor wish list–Provide a meaningful conclusion that frames type of feedback desired.
In future iterations, I'd like to investigate why students still aren't coming up with stronger conclusions or attempting to shape the type of feedback received from their audience.
Also, as of the time of this writing the presentation lectures still came late in the 4th phase of the program. Students should gain this knowledge and start developing positive habits much earlier.
Require student portfolios
Invite collaboration
Thanks to layoffs and other personnel changes, by the time we began the project of reworking the 5th and final program phase to require student portfolios, I was the only remaining member on the Flatiron School Product Design curriculum team. My supervisor, Joshua Robinson, contributed to the project as his schedule allowed.
However, as collaboration produces the strongest work, my first step in the project was to hold meetings with Flatiron School's collaborative designers, Chelsea Dyer and Abby Kerr, to make sure I implemented Backward Design properly.
Work backward
We embraced Backward Design on this project with 2 goals in mind for students:
Connect learning objectives to the traits most commonly sought by employers for entry-level design roles.
Define learning objectives, and then assessments, prior to writing any learning content, to make sure the learning content maps to the stated objectives and enables students to succeed at the assessments.
To make sure instructors understood its benefits, I created and presented a lecture on Backward Design to our delivery team, followed by a question and answer session.

By better understanding the goals of working backward, instructors were able to make meaningful contributions during collaborative working sessions.
Analyze job listings
We spent the first of those collaborative working sessions locating entry-level job listings for junior designers, bolding keywords, and identifying patterns.

Using our findings from analyzing job listings, I created a spreadsheet identifying the knowledge, skills, and abilities industry employers seek from junior-level design candidates.

Doing this work invalidated a hypothesis found in the previous version of the curriculum.
While we'd assumed that asking potential grads to choose a specialization for their portfolio in either UX Research, UX Design, or UI Design would make them more marketable, in analyzing industry job listings we found little demand for junior-level specialization.
Draft learning objectives: case study and portfolio
The next task involved narrowing down the knowledge, skills, and abilities to the ones relevant to creating a single case study and student portfolio, and using them to shape clear, measurable, and achievable learning objectives.

For the case study, the most critical objectives pertained to telling an effective story using a summary, descriptive headings, and emphasized moments of interest, as well as optimizing visual assets to draw attention to specific and meaningful details.
For the portfolio, we focused on students highlighting their professional journey, unique strengths, and aspirations for their future career. Additional objectives pertained to color, typography, accessibility, as might be found on any design project.
Create assessment rubrics
With learning objectives written, we needed assessment rubrics that measured student success in meeting each objective.

By mapping each item on the rubric directly to a learning objective, and by keeping the rubric as detailed as possible, we found writing corresponding assessment instructions was fairly straightforward. At the end of the project, students needed to deliver exactly what was required by the rubric.
Learning content and assignments
In the first 4 phases of the Product Design program, students follow a predictable and rigorous schedule of 4 lessons per module, 3 modules per phase, with a corresponding lab following most lessons.
However, creating a single case study and launching a portfolio is more work than we'd ever assigned in a single module, and required a creative approach to the school calendar.
By permitting students to follow a self-paced schedule, we were able to create 7 assignments:
Craft personal statement and bio
Case study summary
Draft case study
Optimize visual assets
Revise case study
Create portfolio website
Portfolio accessibility audit
We grouped each assignment with related learning content in Canvas. Some of our strategies for inspiring effective student projects included
Choosing examples carefully.
In previous versions of the curriculum, we'd shown plenty of example case studies and portfolios, but without properly describing why they were effective.

In addition to pairing examples with thorough explanations in the revised curriculum, we also included more screenshots of junior-level portfolios and case studies, since senior-level work is difficult for a pending grad to emulate.
Encouraging Minimum Viable Portfolios.
Having students race through the case study writing and portfolio creation process in a single module proved advantageous in one sense: students couldn't wait until they'd perfected their portfolio before launching it.
In the above video, part of a larger lecture on design portfolios, I encourage students to embrace a Lean approach. Rather than striving for perfection, grads are better off working in small iterative loops:
Build a minimum viable portfolio
Apply for jobs
Receive feedback
Make improvements
With this in mind, we required students to build portfolios in UXFolio. UXFolio offers fewer customization options than competitors like Webflow or Squarespace, but that's precisely the idea. Strict constraints force quicker decisions and less analysis paralysis than a blank canvas.
Reflection
When attending portfolio presentations, I observed that students truly embraced the Lean approach to their portfolios. Case study storytelling and project presentations had become observably stronger. Graduates finished Phase 5 with a complete portfolio and a single case study, and had the tools, templates, and experience necessary to build additional case studies and revise their portfolio as needed.
Conclusion
Did the curriculum improvements improve graduation rates? Early numbers look promising.
While the sample size is small, the success rate of Flatiron School Product Design graduates seeking jobs from January through September 2023 shows a 47% increase versus 2022.
Time to placement appears to be decreasing as well; from May through September 2023 the average job search took 137 days, versus 229 days for the first 4 months of the year.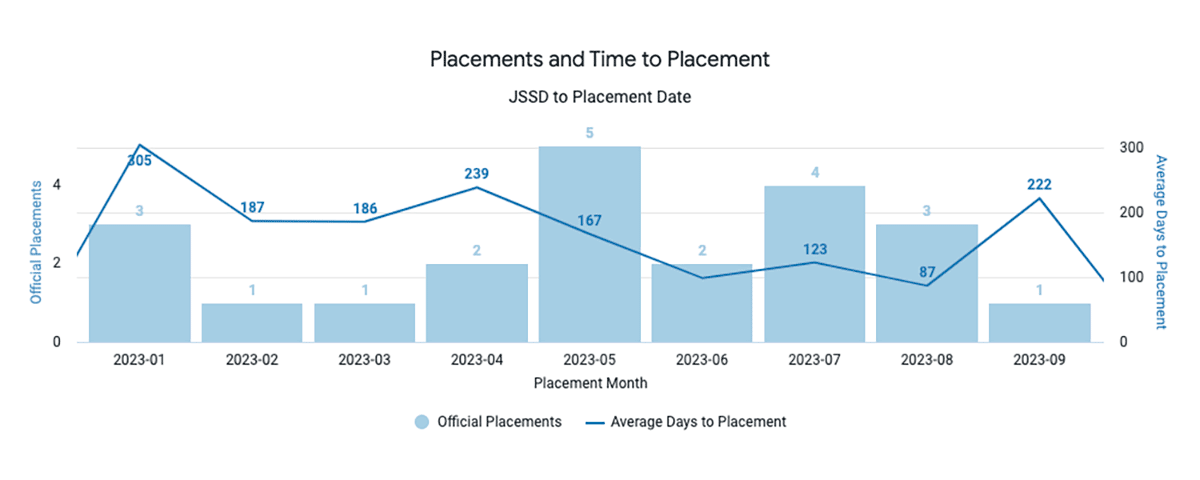 Unfortunately, this is all the evidence I can provide. In early October 2023 I lost my job at Flatiron School, just days after my team launched an improved version of the capstone project to follow the single case study and portfolio assignments.
So while I wish the best for my remaining teammates and for Flatiron School's Product Design graduates, I won't have an opportunity to access more data or to make adjustments to this curriculum moving forward.